Top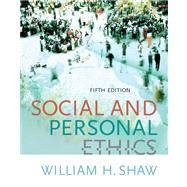 Social and Personal Ethics (with InfoTrac)
ISBN 13:

9780534640248

ISBN 10:

0534640249

Edition: 5th
Format: Paperback
Copyright: 04/19/2004
Publisher: Thomson-Wadsworth
Note: Not guaranteed to come with supplemental materials (access cards, study guides, lab manuals, CDs, etc.)
Extend Your Rental at Any Time
Need to keep your rental past your due date? At any time before your due date you can extend or purchase your rental through your account.
Sorry, this item is currently unavailable.
Summary
Part I: ETHICAL THEORY. 1. An Introduction to Ethics. The Nature of Morality. Normative Theories of Ethics. 2. Ethical Relativism. James Rachels, "The Challenge of Cultural Relativism." 3. Three Rival Ethical Perspectives. Aristotle, "Happiness, Function, and Virtue." Immanuel Kant, "Good Will, Duty, and the Categorical Imperative." John Stuart Mill, "Utilitarianism." Part II: ISSUES IN APPLIED ETHICS. 4. Suicide and Euthanasia. Richard B. Brandt, "The Morality and Rationality of Suicide." Daniel Callahan, "When Self-Determination Runs Amok." Dan W. Block, "Voluntary Active Euthanasia." John Hardwig, "Is There a Duty to Die?" 5. Abortion. John T. Noonan, "An Almost Absolute Value in History." Mary Anne Warren, "The Moral Status of Abortion." Don Marquis, "An Argument that Abortion is Wrong." Judith Jarvis Thomson, "A Defense of Abortion." Rosalind Hursthouse, "Virtue Theory and Abortion." 6. Animals and Environmental Ethics. Peter Singer, "The Place of Nonhumans in Environmental Issues." Tibor R. Machan, "Do Animals Have Rights?" Christopher D. Stone, "Should Trees Have Standing? Toward Legal Rights of Natural Objects." William F. Baxter, "People or Penguins." J. Baird Callicott, "The Search for an Environmental Ethic." Mylan J. Engel, Jr., "Why You are Committed to the Immorality of Eating Meat." 7. Sexuality and Intimate Relationships. Helen E. Longino, "Pornography, Oppression, and Freedom." Ellen Willis, "Feminism, Moralism, and Pornography." John Corvino, "Why Shouldn't Tommy and Jim Have Sex?" Michael Pakaluk, "Homosexuality and the Common Good." Mike W. Martin, "Adultery and Fidelity." Nicholas Dixon, "Alcohol and Rape." 8. Liberty, Paternalism, and Freedom of Expression. John Stuart Mill, "On Liberty." Gerald Dworkin, "Paternalism." Robert E. Goodin, "Permissible Paternalism: Saving Smokers from Themselves." David Boaz, "A Drug Free America or a Free America?" Charles R. Lawrence III, "If He Hollers Let Him Go: Regulating Racist Speech." 9. The Responsibilities of Citizens. Plato, "Crito." David Lyons, "Moral Judgment, Historical Reality, and Civil Disobedience." Loren Lomasky and Geoffrey Brennan, "Is There a Duty to Vote?" William A. Galston, "Some Arguments for Conscription." 10. Gun Control. Daniel D. Polsby, "The False Promise of Gun Control." Nicholas Dixon, "Handguns and Violent Crime." Michael Huemer, "Is There a Right to Own a Gun?" 11. Punishment. William H. Shaw, "Punishment and the Criminal Justice System." Ernest van den Haag, "The Ultimate Punishment: A Defense." Jeffrey H. Reiman, "Justice, Civilization, and the Death Penalty." 12. War and Terrorism. R. M. Hare, "Loyalty and Obedience." Robert K. Fullinwider, "Terrorism, Innocence, and War." Michael Ignatieff, "Human Rights, the Laws of War, and Terrorism." Mark Bowden, "The Dark Art of Interrogation." 13. Affirmative Action and Discrimination. Richard A. Wasserstrom, "One Way to Understand and Defend Programs of Preferential Treatment." Louis P. Pojman, "The Case Against Affirmative Action." Luke Charles Harris and Uma Narayan, "Affirmative Action as Equalizing Opportunity." David Benatar, "The Second Sexism." 14. Economic Justice. Peter Singer, "Rich and Poor." Robert N. Van Wyk, "World Hunger and the Extent of Our Positive Duties." Ian Maitland, "The Great Non-Debate Over International Sweatshops." John Orlando, "The Ethics of Corporate Downsizing." John Isbister, "Welfare and Social Justice." D.W. Haslett, "Is Inheritance Justified?" 15. Ethics in Business. Michael J. Phillips, "The Inconclusive Case Against Manipulative Advertising." Thomas L. Carson, "The Ethics of Sales." Michael Davis, "Some Paradoxes of Whistleblowing." Joseph R. DesJardins and Ronald Duska, "Drug Testing in Employment."
Table of Contents
Read more
Write a Review