Top
Rent Textbooks and Save up to 85%
You won't find these low textbook rental prices at your campus bookstore.
Great Reasons to Rent From Knetbooks

Free Shipping
Every order ships free!
Plus, print a prepaid UPS return label when your rental is due.

Multiple Rental Options
Choose what works best for you with our short term, quarter and semester rentals.

Flexible Due Dates
You have the choice to extend or purchase your rental in your account at any time.

Text Message Updates
Get notified via text when your order ships and when your rental due date is approaching.
Knetbooks Makes Textbook Rentals Affordable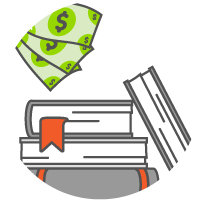 Join the
323,837
students that saved
$33,094,005
by renting from us!
#ThanksKB
"Best Deals. I spent 2 days finding my books and comparing prices! Will use again!
Thanks for the free shipping!"

- Shannon E.

Committed to Customer Service