Top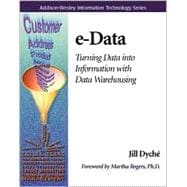 e-Data Turning Data Into Information With Data Warehousing
ISBN 13:

9780201657807

ISBN 10:

0201657805

Edition: 1st
Format: Paperback
Copyright: 02/15/2000
Publisher: Addison-Wesley Professional
Note: Not guaranteed to come with supplemental materials (access cards, study guides, lab manuals, CDs, etc.)
Extend Your Rental at Any Time
Need to keep your rental past your due date? At any time before your due date you can extend or purchase your rental through your account.
Sorry, this item is currently unavailable.
Summary
E-commerce. Knowledge management. CRM. ERP. Smart cards. Data mining. It's true that in the vast realm of technology, the term data warehousing has recently ceded ground to some whiz-bang buzzwords. Even with data warehouse adoption rates steadily increasing by 30 percent a year, the Web and its patois have drowned out discussions of even more advanced technological developments, rendering state-of-the-art technical breakthroughs a second-page story.
At first, I was a bit depressed by all the Web hype. Inasmuch as data delivery was critical to the enterprise, you still needed to store that data someplace, Internet or no. With all the hullaballoo about Y2K and Web portals, had data warehousing simply faded away?
Recent customer experiences quickly shook me awake. Not only have data warehouses not faded away, they've assumed center stage again. While certain terminology might ebb and flow--data warehouses are now synonymous with "decision support" and "business intelligence" and naturally symbiotic with all things Web--the data warehouse is in fact the hub in the wheel when it comes to many companies' most important strategic initiatives.
Attend any conference these days, whether focused on industry, marketing, or technology, and there's bound to be a presentation on customer loyalty programs, retention, or customer relationship management (CRM). Sometimes supply chains and even business process reengineering still rear their heads. The point here is that regardless of what the business initiative is, the data warehouse will likely play a central role in its execution by making key data available to a cross-section of the business.
In this book, the term
e-data
refers to data that has been intelligently modeled, cleansed, and consolidated into a data warehouse so that it's meaningful and useable by business people. The fact is, e-data is more important than ever. Whether you have a data warehouse, a data mart, or a decision support application (chapter 1 defines the differences), or are considering stepping up your CRM, e-commerce, or target marketing programs, having clean, consolidated information is no longer a nice add-on; it's a necessity. This book explains how e-data and a data warehouse can solve a wide range of business problems and provides real-world examples from a diverse set of industries, countries, and companies.
The Book and Its Purpose
A lot has been written about data warehouses. Development methodologies, database design conventions, and system architectures have been surveyed in a myriad of technology books, most of them discerning and clear. These books have pinpointed a market eager for information on data warehousing's technology components and how to integrate them. They are important for practitioners, offering tips on eclectic subspecialties such as data replication, star schema design, concurrency planning, and horizontal database partitioning. They deconstruct the development lifecycle and guide readers through critical processes that are fundamental to data warehouse development.
This is not one of those books.
Rather, it's a book for those of us who aren't interested in lofty technical dissertations but whose work nevertheless touches corporate data in some way. Those who are keen on getting the information the data warehouse can deliver, are hiring staff who will use it, and are interfacing with their technical colleagues in making it all work.
We need to understand what data warehouse technology really does, in common terms, and why it's right for our companies. While we're not interested in implementing it, we'd like to differentiate the well-worn buzzwords. We'd appreciate some implementation scenarios as they pertain to data warehouses and why they're used, and checklists of success criteria. We want to know how e-data can aid in marketing, assist our companies in winning customers--sometimes for the second time--and help us eat our competitors' collective lunch. We want trenchant examples and are hungry for tips from those who've realized the vision. We want to understand what data warehouses will do for us, as well as what they will not.
In short, this is a book for the rest of us.
You the Reader
Readers of this book are most likely business professionals with limited technical expertise or people who have learned a bit about technology in spite of themselves. However, technicians and practitioners might find this book a refreshing review, especially in light of the real-world case studies it presents. The audience for this book thus encompasses a wide range of readers, including those listed below.
Executives and managers will glean a lot of practical information from this book, both in terms of how to tell whether a data warehouse is the right solution for the business problem at hand and how to determine whether an existing data warehouse is living up to its value proposition.
Businesspeople whose thirst for new information alone is often justification for a data warehouse will be interested in how data warehouses are being used in various industry and marketing capacities. The book introduces concepts and terms that managers and end-users alike can learn in order to speak the same language as their information technology (IT) colleagues, ensuring that their business requirements are understood and addressed, and offers several checklists against which to gauge data warehouse readiness.
Marketing experts, including product managers, merchandisers, and strategic planners, can read about key corporate initiatives that directly leverage data warehouses.
IT managers will find this book a practical tool in confirming the requirements for successful data warehouse delivery. The book includes a variety of metrics and success factors with which technology management can measure its efforts or bolster its preparatory activities.
Consultants, too, will find this book useful; they can employ the various checklists and matrices in order to evaluate staff and review delivery success metrics, as well as to prepare their practices for what's on the horizon. Project managers, both administrative and technical, can translate the information for their own implementation strategies, supplementing both their project plans and the methodologies that drive them.
Finally, technical practitioners and implementation team members can use this book for review; in the process they may discover a thing or two about how other companies are implementing their data warehouses and as a result refine existing development activities.
Content Overview
This book provides an evolving look at data warehousing, from its various definitions to its place in the overall corporate infrastructure to its variety of uses. You can either read the chapters linearly or go directly to the areas that interest you most.
Certain readers might surmise that the book focuses on the technology platform, the data warehouse hardware itself. This approach would be like writing a book about television and discussing the electronic circuitry of the television set rather than the actual shows. While the book does explain the underlying technology involved in data warehousing by way of framing the picture, it nevertheless focuses more on "what's inside" the data warehouse, not to mention the prevalent audience. In short, the book is about what data warehouses do for a business.
The book is divided into three parts, which categorize the chapters into high-level areas. Below is a thumbnail sketch of the book's organization and contents.
Part I: Getting the Value
<
Author Biography
Read more
Table of Contents
Read more
Write a Review