Top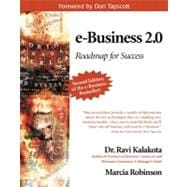 e-Business 2.0 Roadmap for Success
ISBN 13:

9780201721652

ISBN 10:

0201721651

Edition: 2nd
Format: Paperback
Copyright: 12/01/2000
Publisher: Addison-Wesley Professional
Note: Not guaranteed to come with supplemental materials (access cards, study guides, lab manuals, CDs, etc.)
Extend Your Rental at Any Time
Need to keep your rental past your due date? At any time before your due date you can extend or purchase your rental through your account.
Rental Options
List Price $74.99 Save

Free Shipping On Every Order
Usually Ships in 2-3 Business Days
Summary
e-Commerce is changing the shape of competition, the dynamics of the customer relationship, the speed of fulfillment, and the nature of leadership. In the face of change, is your management
Willing to cannibalize its existing channels with a risky, untested new one?
Creating a click-and-mortar service infrastructure that gives customers the same experience through all the channels?
Digitizing the supply chain and linking up with competitors to reduce costs further?
Managers and companies everywhere are at a crossroad. With so many ways to go, which road will lead to success? What roadblocks will need to be navigated? Which business models, management strategies, and tactics will ensure success? What will the characteristics of the next generation of business applications be, and which vendors will lead in delivering them? To whom can managers turn for help? If you're losing sleep over these questions, you've picked up the right book. We'll help you find the road to take to learn the fundamentals of business built on a digital foundation. If these questions are not of paramount importance to you, get used to mediocre business performance.
In these days of frequent and rapid change, skill in designing and changing complex "digital corporations" is a significant advantage. This advantage is highlighted throughout the book. To achieve an edge, management must be able to create complex service models built on technology--"e-service" designs. Simple designs offer no advantage and are easily copied. This book is about the discipline needed to create complex infrastructure choices, which are central to any modern firm. This book, based on several years of researching, consulting, managing, and growing e-business start-ups, tackles two nagging questions.
Why are some companies relentlessly successful at e-commerce while others flounder? What are the successful businesses doing differently to solve customer problems or pain?
How are successful companies, both old and new, moving from traditional applications to the new breed of integrated, e-business application architectures?
Through detailed case studies and analysis, this book examines the e-business blueprint, offering step-by-step guidance in choosing and implementing the right application strategies to survive the e-commerce onslaught and to succeed. The thesis of the book is that durable application frameworks can guide you through the e-business chaos. Business models change. Technology changes. But application infrastructure design principles endure.
What This Book Is About
Managers of established companies are struggling to comprehend this new phenomenon: e-commerce. But already, the next wave--e-business--is reaching shore. Intensified competition and new e-commerce opportunities are pressing traditional companies to build e-business models that are flexible, fast moving, and customer focused. In other words, the core of the enterprise itself is undergoing a metamorphosis from e-commerce to e-business.
e-Business is the complex fusion of business processes, enterprise applications, and organizational structure necessary to create a high-performance business model. The message is simple: Without a transition to an e-business foundation, e-commerce cannot be executed effectively. Considering the inevitability of moving toward an e-business foundation, senior management is being galvanized into tactical action. Those who fail will pay a high price.
One point deserves emphasis: Choosing to pursue e-business is not easy. e-Business is not a slogan. It is not a public relations campaign. It cannot be grafted onto or integrated into a company's normal business-as-usual operating philosophy. Going "e" is a central act that shapes every subsequent plan and decision a company makes, coloring the entire organization, from its competencies to its culture. e-Business, in effect, defines what a company does and, therefore, what it is.
If they seriously want to develop effective strategies for competing in the new economy, managers must understand the fundamental structure of the next-generation e-corporation built on an interconnected web of enterprise applications. We wrote this book to provide a master blueprint for building an innovative e-corporation that can survive and thrive in the digital world.
What Makes This Book Different
Many books have been written about how the old economic rules of scale, scope, efficiency, market share, and vertical integration are no longer sufficient. New rules must be applied, and that requires new organizational capabilities. Managers everywhere understand the urgency; they're itching to get going and to make change happen.
Unfortunately, first-generation e-commerce strategy books were long on vision but short on detail. It's easy to talk about the e-commerce future, but the real management challenge is to make it happen in a systematic way without derailing existing business. What does this mean to top management? If customers are moving online, the whole information technology (IT) investment paradigm must shift toward creating an integrated e-business model.
The focus of this book is practical: helping senior management plan for and manage e-business investments. The first step is to design a comprehensive e-commerce strategy and then to evaluate prospective line-of-business application framework investments on the basis of how well the technology or application advances the strategy. Companies often make the mistake of focusing first on e-commerce applications and only then trying to bend a strategy around this outline. To succeed, managers must have a strong e-business strategy in place before considering specific e-commerce application investments. Otherwise, most e-commerce efforts are doomed to fail.
But what do these internal e-business architectures and investments look like? The answer is the focus of this book, the first to look at the problem of structural migration: how to transform an old company into a new agile e-corporation. This book provides a unique view of the next-generation, integrated enterprise and the line-of-business application investments necessary to compete. We highlight the critical elements--business processes, back-office and front-office applications, and strategy--that managers need to be successful in the digital economy.
In other words, corporations involved in e-commerce must rethink their visions of the future. Understanding how to lead one's company into the e-commerce arena requires a new point of view about integration and the business design. We offer step-by-step navigation of the uncharted e-business terrain. Executives and consultants everywhere need this guide to navigate the information economy.
Who Should Read This Book
Many managers are so focused on the details of e-business that they fail to see the vast structural change in how the application infrastructure is being put together. Virtually every business discipline is affected by e-commerce and e-business application architectural efforts. Management needs to learn that the real challenge surrounding e-business is the task of making it happen. This book focuses on the business architecture that managers must build in order to achieve e-business success.
For firms in mature industries, such as automotive, insurance, and retail, that are trying to move in new directions, this book offers critical insights. For market leaders, such as Home Depot and FedEx, this book offers insights for sustaining their leadership. For entrepreneurs managing start-ups, this book highlights the key issues on which those businesses will succeed or fail. Its timeliness and insights into the changes in organizational practice make this book appealing to
Author Biography
Read more
Table of Contents
Read more
Write a Review