3 Tips for Balancing the Upcoming Fall Semest...
It's about that time again where the new school year looms dauntingly overhead. Nearing the end...
MORE
How to Beat Homesickness Freshmen Year of Col...
Homesickness is very common among college freshmen. For many first year college students it is ...
MORE
Popular Textbook Categories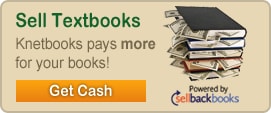 Textbook Rentals Save You Money
Our Textbook Rental and Return Program is a cheaper alternative to buying new or used textbooks. At Knetbooks we understand how expensive college textbooks can be, so we offer you a more price conscious option when shopping for textbooks. Simply find the textbook or textbooks you need and we will provide you Free Shipping both ways. We also offer you the option to rent your textbooks for different periods of time in order to better accommodate your needs. If you decide that you need to keep your book rental for a longer period, you can add 15 or 30 days to your rental for a small fee. Most of our textbook rentals ship within 48 hours, some quicker. Once you receive the rented textbook, keep the box so you can reuse it when you ship your textbook back to us for free.