Top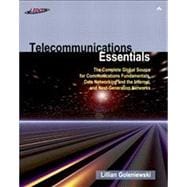 Telecommunications Essentials The Complete Global Source for Communications Fundamentals, Data Networking and the Internet, and Next-Generation Networks
ISBN 13:

9780201760323

ISBN 10:

0201760320

Edition: 1st
Format: Paperback
Copyright: 12/26/2001
Publisher: Addison-Wesley Professional
Note: Not guaranteed to come with supplemental materials (access cards, study guides, lab manuals, CDs, etc.)
Extend Your Rental at Any Time
Need to keep your rental past your due date? At any time before your due date you can extend or purchase your rental through your account.
Sorry, this item is currently unavailable.
Summary
I love telecommunications. It is powerful, and it empowers, with far reaching consequences. It has demonstrated the potential to transform society and business, and the revolution has only just begun. With the invention of the telephone, human communications and commerce were forever changed: Time and distance began to melt away as a barrier to doing business, keeping in touch with loved ones, and being able to immediately respond to major world events. Through the use of computers and telecommunications networks, humans have been able to extend their powers of thinking, influence, and productivity, just as those in the Industrial Age were able to extend the power of their muscles, or physical self, through the use of heavy machinery. Today, new inventions and developments once again are poising telecommunications as a force to be reckoned with, forever changing human communications and commerce, and introducing machines as members of the networked society. This is an exciting era, in which we face a host of new telecommunications technologies and applications that bring breathtaking new opportunities, particularly in the industries of entertainment, education, health care, government, advertising, lifestyle, and, sadly, warfare.
I have a favorite quote, from Eric Hoffer's Vanguard Management: "In a time of drastic change, it is the learners who inherit the future. The learned find themselves equipped to live in a world that no longer exists." The fact that you are reading this shows that you are aware of the monumental changes taking place in telecommunications infrastructures and usage, and are eager to learn what those are--as well you should be! This book is designed to provide a thorough foundation for understanding a wide range of telecommunications principles and technologies.
If you are new to the communications and information industry or simply want an understandable, yet comprehensive overview of telecommunications, this book is for you. Telecommunications Essentials will equip you with a blueprint on which you can build. The telecommunications landscape is vast, and for a newcomer, it is treacherous terrain to navigate. This book provides you with a logical progression in gluing together all the pieces of the telecommunications puzzle. This book will help you to master the basic building blocks of key technologies, from the principles of telecommunications transmission and networking to the current and evolving nature of the Internet, broadband architecture, and optical networking, addressing both wired and wireless alternatives.
What This Book Covers
This book provides a concentrated, high-level overview of the terminology and issues that comprise telecommunications, and it discusses the major telecommunications infrastructures, including the PSTN, the Internet, cable TV, and wireless.
The book is divided into three parts. Part I: Telecommunications Fundamentals explains the basics, the arts and sciences of telecommunications. It begins by explaining the factors that are contributing to the telecommunications revolution and talks about some of the exciting new technologies that are on the horizon. Part I gives you a good grounding in the basics of telecommunications technology and terminology, covering communications fundamentals, and including the characteristics and uses of the various transmission media. Part I also discusses the processes involved in establishing communications channels, examining the differences between circuit-switched and packet-switched networks, and it explores the nature of the PSTN.
Part II: Data Networking and the Internet introduces the basics of data communications and networking. It discusses today's wide-area and local-area networking alternatives, as well as how the public Internet is structured. It also explores next-generation network services, such as VPNs, Voice over IP, and streaming media.
Part III: Next-Generation Networks explores the realm of broadband networking and emerging technologies, including the near and distant future of communications and its convergence with related infotech industries. Part III covers next-generation network architectures, optical networking, broadband access alternatives, home area networking, and the realm of wireless communications.
In almost every aspect of life, it is important to put and keep things in context. A good idea in one situation might be a terrible idea in another situation. This is often the case with telecommunications; there is no one-size-fits-all be-all and end-all telecommunications solution. In assessing telecommunications needs, it is important to think about the prevailing conditions, so that you can choose the best transmission media, the best network architecture, and so on for the situation. It's also important to remember that prevailing conditions change. So, what's right for you today may change six months down the road. As you plan a telecommunications strategy, it is important to look as far into the future as you can, to make your network as adaptable to future innovations as possible.
Online Tools That Supplement the Book
As the founder and president of the LIDO Organization (www.telecomessentials.com), I have been involved in providing educational and advisory services to developers, suppliers, regulators, investors, consultants, and users of telecommunications technologies and networks since 1984. I want to share my knowledge of telecommunications with people in the format that best fits their learning styles. Some learn best in a classroom situation, where they can make eye contact with the instructor, view graphics while the instructor is explaining concepts, and ask questions in person. LIDO has been providing seminars for these learners for 17 years. Some people prefer to learn at their own pace, and they like the convenience and ability to track down further information that online learning affords. For these people, LIDO has provided e-learning programs (Web-delivered or via software license) since 1999. Yet other people learn best from books--when they can carry their learning tool with them anywhere and read and reread as time and circumstances allow. Therefore, I decided to write this book, to provide a comprehensive source on telecommunications essentials.
A 1775 quote from Samuel Johnson summarizes LIDO's approach to knowledge solutions in telecommunications: "Knowledge is of two kinds: We know a subject or we know where we can find information upon it." LIDO presents this book to help you learn, and it offers the Telecom Essentials Learning Center (www.telecomessentials.com/learningcenter) to help you keep learning. The Telecom Essentials Learning Center offers a number of helpful resources to help reinforce your telecommunications knowledge:
Online quizzes
The online quizzes allow you to test your knowledge after reading each chapter. The quizzes are designed to reinforce what you have learned and assess those areas where you might wish to review the chapter.
Online telecommunications glossary
The telecommunications vocabulary seems to grow daily. You can use the online glossary to search thousands of terms to find definitions quickly.
Student discussion forums
These forums are your place to meet other individuals interested in the telecom field. You will find groups where you can discuss course materials and current events in telecom and where you can make valuable connections with individuals around the world to help advance your telecom knowledge and contact bases.
Links to thousands of related Web sites
Each chapter is supported with links to recommended books, recommended magazines, and a comprehensive list of key sites to visit. This portal includes more than 6,000 links to important destinations in the world of telecom. <
Author Biography
Read more
Table of Contents
Read more
Write a Review